Our phenotyping department is equipped with a dedicated viral transduction facility and highly trained staff for delivery of viral vectors.
A large panel of delivery route are validated for gene transfer in adult mouse. Other routes, delivery in young mice or in rats can be developed upon request. Biodistribution and efficiency analyses and downstream phenotyping tests can be performed on transfected animals
Vectors frequently used
Adenovirus
AAV
Lentivirus
LentiFlash particles (for non-integrative RNA delivery)
Vaccinia
Delivery modes currently available
Intradermic; Subcutaneous
Intravenous (retro orbital or jugular vein injection)
Intraperitoneal

Intranasal aerosol
Intratracheal
Intrajugular slow injection – minipump

Stereotactic admininistration:

intraventricular
cerebellar

Intramuscular
Intratumoral

 
 
For any viral transduction request please contact us
Sample results
Intramuscular injection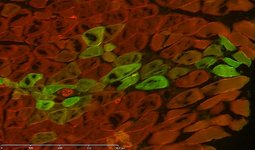 Intramuscular injection of cre vector in mT/mG reporter mouse (Muzumdar, Mandar Deepak, Bosiljka Tasic, Kazunari Miyamichi, Ling Li, and Liqun Luo 2007- A Global Double-Fluorescent Cre Reporter Mouse. Genesis (New York, N.Y.: 2000) 45(9): 593–605.). Legend: green: recombined cells; red: non recombined cells
Stereotactic admininistration  for mouse and rat
Purpose:
Stereotactic delivery are widely used for brain manipulation regarding neurodegenerative disorders. With the development of gene therapy, the injection of viral vectors into specific brain structures is admitted to be a valuable technique in the study of treatments for neurodegenerative brain diseases (Parkinson's, Alzheimer's...).
Sample results: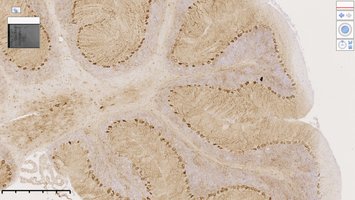 Legend: cerebellum mouse slice, stained with an HA antibody to detect « confidential » transgene expression after intra cerebellar AAV delivery using stereotactic technics. Francoise Piguet ©IMC
Equipment:
With automated stereotactic instruments and a microbiological safety station, we have been performing intracerebral injections of AAV followed by behavioral studies in the mouse models. Finally, we recently succesfully conducted a preliminary toxicity study on rats to confirm those obtained in mice.
Automated stereotactic instruments (World Precision Instruments, United States)
Microbiological safety station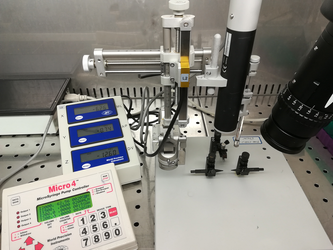 Legend : automated intracerebral injection system for mouse and rat models.