Nous tenions à vous remercier très chaleureusement de votre participation à la célébration des 10 ans de PHENOMIN et de partager avec vous, ces belles avancées scientifiques et ces collaborations solides développées au cours de ces 10 ans d'existence.

Nous espérons que les diverses présentations ont témoigné de la capacité de PHENOMIN à accompagner avec force et qualité les projets des équipes de recherche.

Y. Hérault, C. Frémond et B. Malissen
                                                           July 6th, from 02:00 pm to 06:00 pm, visioconference (in French)

to celebrate our achievements and share a vision for the future
Welcome to all !
Ten years ago, in 2011, PHENOMIN was awarded an Investissement d'Avenir, showing a really sign of support from the French government. During this period, PHENOMIN has developed innovative, standardized and parallel methodologies of functional analysis and comparative genetics for rodent models, according to the needs of the community. Your needs!
The French research infrastructure has thus created a complete portfolio of state-of-the-art services in the field of mouse phenogenomics. To support you in your projects! For 10 years, PHENOMIN has been supporting the national and international scientific community in the completion of their projects for a better transfer of results to humans. For a better reliability of data on your models!
During the 2019 evaluation, a panel of foreign experts affirmed that PHENOMIN was an excellent, mature research infrastructure of great importance to the French and international scientific community. A great recognition of our expertise! 10 years of effort and evolution at the service of users that would have been impossible without the involvement and motivation of the entire PHENOMIN staff. Congratulations to all our teams!
We invite you to join us on 6 July from 2pm to 6pm to celebrate our achievements and share a vision of PHENOMIN's future; all together with you!
---
Bienvenue à tous !
Il y a 10 ans, en 2011, PHENOMIN bénéficiait d'un Investissement d'Avenir, signe de soutien du gouvernement français. Durant cette période, PHENOMIN a développé des méthodologies innovantes, standardisées et parallèles d'analyse fonctionnelle et de génétique comparative pour les modèles de rongeurs, en fonction des besoins de la communauté. Vos besoins !
L'infrastructure a ainsi créé un portefeuille complet de services de pointe dans le domaine de la phénogénomique de la souris. Pour vous accompagner dans vos projets ! Depuis 10 ans, PHENOMIN accompagne la communauté scientifique nationale et internationale dans l'accomplissement de ses projets pour un meilleur transfert des résultats chez l'homme. Pour une meilleure fiabilité des données sur vos modèles !
Lors de l'évaluation en 2019, un panel d'experts étrangers a affirmé que PHENOMIN était une excellente infrastructure de recherche, mature, et d'une grande importance pour la communauté scientifique française et internationale. Belle reconnaissance de notre expertise ! 10 ans d'efforts et d'évolution au service des utilisateurs qui auraient été impossibles sans l'implication et la motivation de l'ensemble du personnel de PHENOMIN. Félicitations à toutes nos équipes !
Nous vous proposons de nous rejoindre le 6 juillet de 14h à 18h pour célébrer nos accomplissements et partager une vision sur l'avenir de PHENOMIN. Ensemble, avec vous!
Program
14:00           Introduction (15min)
Y. HERAULT, PHENOMIN en présence des représentants des tutelles (Daniel BOUJARD, CNRS - Thierry GALLI, INSERM -  Catherine FLORENTZ, Unistra -  Sophie CHAUVET, AMU)
14:15           La révolution de la modification génétique (60min)
De la recombinaison homologue à l'édition du génome : comment CRISPR/Cas9 a révolutionné l'ingénierie génétique. Frédéric FIORE et Marie-Christine BIRLING, PHENOMIN
Souris Chchd10S59L/+ : disséquer les mécanismes conduisant à la mort du motoneurone. Véronique PAQUIS-FLUCKLINGER (IRCAN, UMR 7284/INSERM U1081/UCA)
15:15           Le bien-être animal et l'éthique en zootechnie (30min)
Les 3 Rs dans la gestion des modèles rongeurs dans la recherche. Abdel AYADI, PHENOMIN
L'éthique en expérimentation animale dans l'organisation des activités d'un CRO. Noria SEGUENI, ARTIMMUNE
15:45           Pause (15min)                                                                                            
16:00           Les nouveaux défis de l'analyse fonctionnelle et physiologique (60min)
Modèles souris d'évaluation des traitements prophylactiques et curatifs dans les infections par SARS-CoV2. Ana ZARUBICA, PHENOMIN
Des nouvelles perspectives en immunophénotypage à haut contenu. Hervé LUCHE, PHENOMIN
Le syndrome de Costello : de la génération d'un modèle de souris à une étude pré-clinique. Tania SORG, PHENOMIN
L'intérêt des modèles murins pour comprendre les mécanismes impliqués dans les ataxies récessives et pour le développement d'approche thérapeutique. Hélène PUCCIO, Institut Myogene, UMR5310, INSERM U1217
17:00             Connaitre le génome des mammifères avec les souris (10min)
De « l'ignorome » aux maladies rares génétiques. Guillaume PAVLOVIC, PHENOMIN
17:10             Conclusion et perspectives (10min)
Y. HERAULT, PHENOMIN                                                                                                                                                      
How to join us online ?
You will then be provided later with a zoom link with password to attend / Vous recevrez ultérieurement un lien zoom avec mot de passe pour assister à l'évènement
---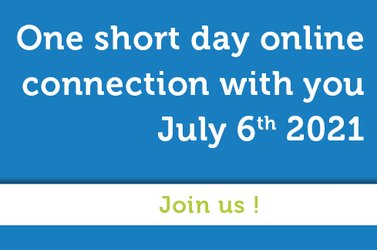 ---
PHENOMIN aims
To develop and

improve tools to advance basic research in mammals and better respond to

the ethical demands of the

society on the use of a

nimals in research (Welfare and Ethic)

by

harmonizing and sharing practices among partners

,

through high level technological

developments in the fields of mutagenesis, zootechnics, cryopreservation, functional analysis,

data analysis and preclinical resear

ch, while complying with ethical rules and animal welfare

To

improve

the impact of preclinical

innovative mouse models

in immun

o-oncology,

inflammation, infection, development, neurobiology, rare diseases

for

the development of

therapies in humans

To

decipher the function of the mammalian genome

and the consequences of genetic

variations

in both coding and non

-coding sequences

to

underpin

future concepts in biology, in

physiology and disease with major insights in precision medicine, rare disease, clin

ical genetics,

and healthy living

.