A new HREM prototype
3D histology imaging for qualitative and quantitative data in phenotyping embryos and adult mice: a new HREM prototype
ICS and IGBMC have jointly developed a new HREM prototype called "Histo3D". HREM is a block-face histological-based technique that generates stacks of high-resolutive images to perform 3D reconstructions. Three-dimensional visualization allows identifying and analyzing microanatomical structures and shapes that cannot be described by dissection or conventional 2D techniques. It also permits accurate volumetric quantitation and comparison between individual samples. Two recent articles highlight the capabilities of the Histo3D system through presenting examples of applications in embryos and adult mice (Wendling et al., Biomedicines 2021) and the pathogenesis of anorectal malformations in retinoic acid receptor knockout mice (Mark et al., Biomedicines 2021).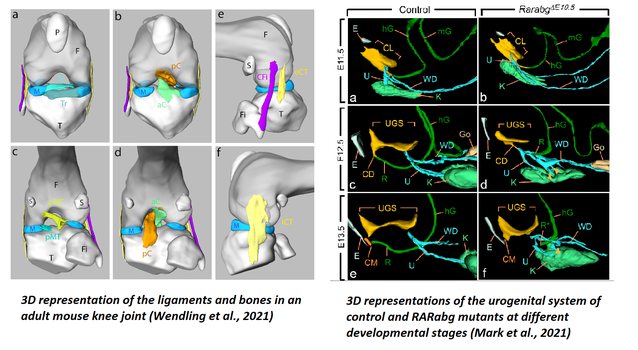 The "Histo 3D" is availble to support your research project. Do not hesiste to contact us for any request
In vivo cerebral viral transduction for mouse and rat
Stereotactic delivery are widely used for brain manipulation regarding neurodegenerative disorders. With the development of gene therapy, the injection of viral vectors into specific brain structures is admitted to be a valuable technique in the study of treatments for neurodegenerative brain diseases (Parkinson's, Alzheimer's...).With automated stereotactic instruments and a microbiological safety station, we has been performing intracerebral injections of AAV followed by behavioral studies in the mouse models. Finally, we recently succesfully conducted a preliminary toxicity study on rats to confirm those obtained in mice.
Electroporation for genome editing in vivo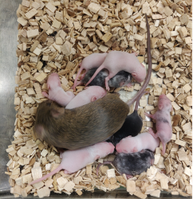 We have implemented electroporation for the delivery of CRISPR/Cas9 with or without small donor DNA. We therefore completely respond to the principles of 3Rs (Replacement, Reduction and Refinement).
This method allows the drastic reduction of the number of donor females and fertilized oocytes. We consistently obtained high efficiency mouse genome editing for multiple genes, and we successfully generated mouse embryos with a variety of editing schemes, including indel mutations, point mutations, genomic deletions, and small precise insertions. Taken together, CRISPR-electroporation is a simple, economic, 3Rs friendly, high throughput, and highly efficient technique for genome editing in vivo, which can replace the traditional microinjection-dependent genome editing technique in mice and in other mammalian species.
Generation of mutated mice combining CRISPR/Cas9 and electroporation
CRISMERE technology
PHENOMIN developed the CRISPR Mediated REarrangement (CRISMERE) strategy to generate any kind of chromosomal rearrangement to generate trisomy 21 mouse and rat models. Have a look at our Personalized genome engineering page dedicated to this technology and read the recent publication in Scientific Report.
 

Inversion

 

 

Duplication

 
 
 

Deletion
Integrated approach for bone pathology
We have developped new capabilities for analysing bone dynamics including both in vivo and ex vivo analysis of trabecular and cortical bone structures by microCT. This improves our current capacities of skeletal examinations by TRAP histological stain, X-ray, DEXA scanning, and quantitative NMR.
Contact us for help in designing your experiments on bone dynamics!

​
Our R&D program
The PHENOMIN research and development program is clearly at the forefront of national and international projects for Genetic Engineering and Model Validation, Zootechny and Phenotyping. Each Work Package of this program is subdivided in sub-work packages with precisely identified deliverables, milestones and expected results allowing to establish straightforward criteria in order to evaluate the progression and the success of each Work Package.
These R&D programs have been developped in collaboration with external scientific experts to ensure that PHENOMIN is developing the most suitable resources and technologies for the community.
USERS / PARTNERS

.

WP1: Infrastructure management

Databases and applications development

.

USERS / PARTNERS
 
 
 
 
 
 
 
 
 
 

Development of innovative and pertinent tools for genetic engineering
Provide access to a high number of genetically modified mouse models

 
 
 

Implementation of methodologies and upgrading of facilities
Securing animal welfare
Ethic

 
 

Development of new in vivo and in vitro functional analysis for mouse traits characterization

 
 
 
 

Discover the function of unannotated genes and new translational mouse models

 
.