Purpose
We perform multi-derivation ECG heart in anesthetized mice with 8 probes to generate information about how the electrical activity propagates in 3 dimensions and to determine the electrical axis of the heart.  Axis deviations may result from cardiac injury or from a congenital defect. 
Sample results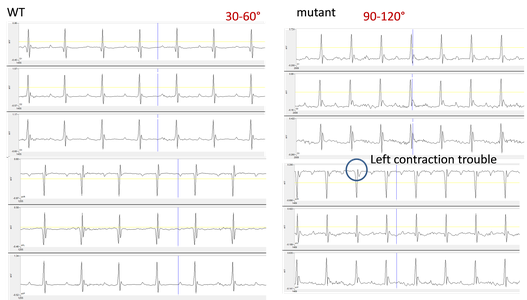 Electrical heart axis difference and specific electrical transmission issues are determined by multiderivational ECG.  Multiderivational ECG profiles of a wild-type mouse (left) and mutant mouse (right).  Deviated profiles in the mutant animal suggest a left-heart contraction deficiency as well as rotation of the electrical axis to 90-120⁰ from the normal 30-60⁰. 
Strain background reference
Any strain background can be used
Equipment
Electrocardiograph ISO DAM8 amplifier (World Precision Instruments, Sarasota, USA) with ECG AUTO v3.3.5.5 (Emka technologies, USA) and 8 lead positions probes.
recommendations:
We recommend 6 mice per group minimum in same anaesthesia conditions and probes positions