Purpose
The measurement of various blood metabolites, ions, and enzymes provides a primary screen for  function of major metabolic organs such as kidney, liver, gastrointestinal tract, as well as for lipid and glucose homeostasis. 
A panel of parameters is proposed, including:
Electrolytes and ions: Sodium (Na), Potassium (K), Chloride (Cl), Calcium (Ca), Magnesium (Mg), Phosphate (PO4), iron (Fe), and bicarbonate (CO2).
Enzymatic activities: Alpha-amylase, aspartate amino transaminase (AST), alanine amino transaminase (ALT), alkaline phosphatase (ALP), lactate dehydrogenase (LDH), lipase, creatine kinase (CK).
Metabolites: glucose, urea, creatinine, uric acid, total proteins, albumin, total bilirubin, triglycerides, free fatty acids, glycerol, total, HDL and LDL cholesterol, fructosamine, ketone bodies (B-HBA), transferrin, ferritin.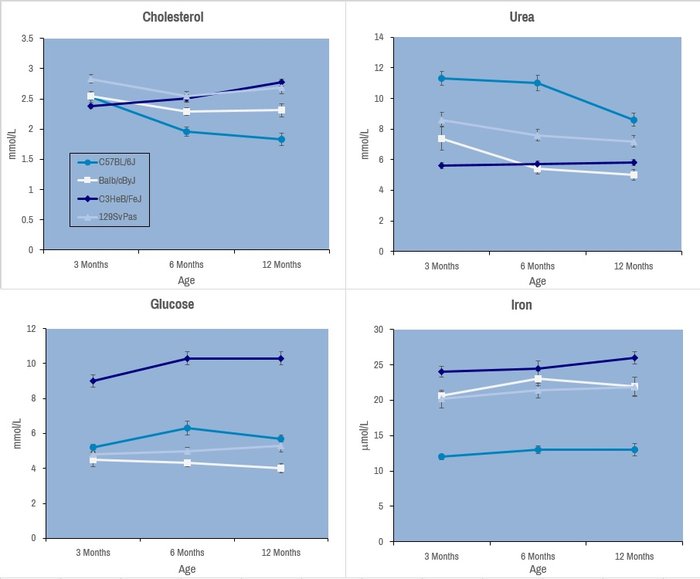 Selected plasma chemistry data from female mice (N=20 per line) of common laboratory strains at different ages (Champy et al. Mammalian Genome 2008).  Error bars reflect ± SEM.
Equipment
These tests are performed with an AU-480 automated laboratory work station (Beckman Coulter France SAS, Villepinte, France).
Strain background references
Champy MF, Selloum M, Zeitler V, Caradec C, Jung B, Rousseau S, Pouilly L, Sorg T, Auwerx J. Genetic background determines metabolic phenotypes in the mouse. Mamm Genome. 2008 May;19(5):318-31. Epub 2008 Apr 5.